Contour 2 Ft 2017
Feature Class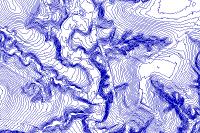 Tags
Bastrop, County, Texas, contours, elevation, topographic, topography, line, 2, two, foot
Summary
Contours should only be used for cartographic purposes.
Description
The Quarter Quad 2ft Contours provided by TNRIS were merged into 1 feature class by Halff Associates. Quads were not clipped to the county boundary resulting contours extending beyond the Bastrop County border. Shapefiles & Feature classes were left in original projection as provided by TNRIS (see below). Feature class polyline elevations are listed in the attribute table (feet) and feature lines have z values (feet).
Credits
Texas Natural Resources Information System (TNRIS), a Division of the Texas Water Development Board (TWDB); Halff Associates, Inc.; and Bastrop County, TX
Use limitations
Contours should only be used for cartographic purposes. Bastrop County makes no guarantees, representations or warranties of any kind, express or implied, arising by law or otherwise, including but not limited to, content, quality, accuracy, completeness, effectiveness, reliability, and fitness for a particular purpose, usefulness, use or results to be obtained from this information. In no event will Bastrop County be liable for any damages, including loss of data, lost profits, business interruption, loss of business information or other pecuniary loss that might arise from the use of these digital data.
Extent

West

 
-97.660715
   

East

 
-97.007321

North

 
30.426077
   

South

 
29.776538
Maximum (zoomed in)

 
1:5,000

Minimum (zoomed out)

 
1:150,000,000