Precincts
SDE Feature Class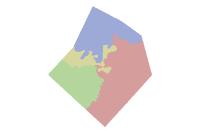 Tags
Bastrop County, Precinct, Commissioner, Constable, Justice of the Peace
Summary
General location of the Bastrop County Commissioners, Constables, and Jutices of the Peace Precinct jurisdictions
Description
Bastrop County Commissioner, Constable and Justice of the Peace precinct boundaries.
Credits
Bastrop County, Information Technology Department - GIS Division, Pecan Street, Bastrop, Texas 78602, Phone: 512-581-4012, Email: mapping@co.bastrop.tx.us
Use limitations
Bastrop County provides this dataset "as is" and assumes no liability for its completeness or accuracy. Information derived from multiple sources which are constantly undergoing change and do not replace a site survey. This product is for informational purposes and may not have been prepared for or be suitable for legal, engineering or surveying purposes. It does not represent an on-the-ground survey and represents only the approximate relative location.
Extent

West

 
-97.656945
   

East

 
-97.012121

North

 
30.425592
   

South

 
29.779552
Maximum (zoomed in)

 
1:5,000

Minimum (zoomed out)

 
1:150,000,000